HEWOOD
The hamlet of Hewood lies to the west of Thorncombe parish church, about a mile and a half by road. It is on the side of a hill and consists of 16 cottages and three farms. Other cottages and a farmhouse lie just a little further away. Mainly built around the mid 18th century, the hamlet is group listed, it being a gem not often found in Dorset. The cottages and farmhouses are mainly thatched. Just a few cottages are tiled. Higher Hewood Farm house, now no longer a farm, is 17th century. The cottages lie around Hewood Green, on a steep hillside looking across to Windwhistle Hill. Here goats and cattle often graze and always geese belonging to the two working farms. Appearances are deceptive. Hewood may look quiet, but there is always something going on.
50 years ago or more there were 30 children who went to Holditch School. About 15-20 years ago the hamlet was much quieter and in danger of crumbling away, but the influx of 'foreigners' from further afield has really made quite a difference and the cottages are now well cared for and the gardens in use for growing vegetables and flowers. During the holiday season a change is seen as people visit or rent one of the cottages for a short while. Alas, there are less than a dozen children now living in Holditch but visiting grandchildren swell the numbers at various times.
Lying as it does between the stately homes of Forde Abbey and Sadborow Hall, there has always been work for the inhabitants of Hewood. Many of the daughters went into service in one of the big houses. They would think nothing of walking long distances across the fields on the footpaths, others perhaps doing a day's work, maybe on a farm and then coming home and caring for their own stock. The Milk Factory, Lace Factory and Quarry at Chard Junction being so near, some of them found employment there.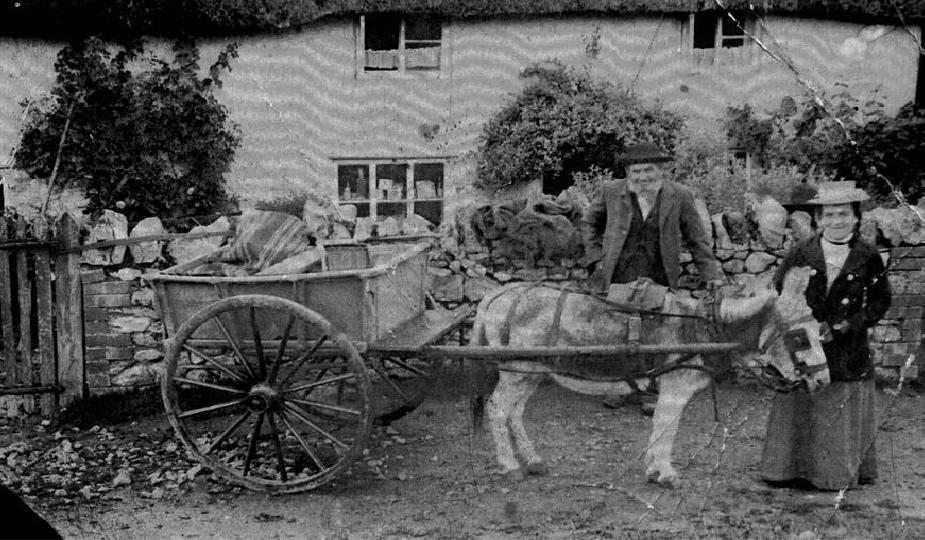 Several of the residents lived in Hewood most of their lives, some were born there. Miss Bidmead ran a shop at No 5 Hewood and she and her father lived at No 11 now known as Hewood Cottage which was also a shop at one time.
There is an old photograph thought to be of Mrs Bidmead with her donkey and cart and possibly her father Henry Aplin in the background, outside her shop at No 11 Hewood, apparently taken at the beginning of the 20th century. (Above) In the 1901 census, Mrs Bidmead, a widow, is listed as a shopkeeper in Hewood. In the same household are her two daughters and her sister, Miss Aplin. One of Hewood's oldest inhabitants Ernest House, worked at the Milk Factory, but he also had a small holding with cows, so it was his wife Kitty who would take them back to the field after milking. She used to wear his boots in too! Ernest also at one time, had a donkey and cart too and did a milk round of the area. In fact he is typical of many of the 'old timers' who would turn a hand to many things.
Ernest's father was a hurdle maker and his parents moved to Honeysuckle Cottage from Synderford, because the doctor said it was too damp there. Young Ernest as a babe in long clothes came to live in Hewood and has lived in the same cottage ever since, and is now 81. When Mr House was 12 he started work at 6d for half a day and at 12½ years, was being paid 3s0d for a full week. His wife Kitty, lived for a time in a little half cottage on Hewood Farm and then her family moved to Rose Cottage (No.15) which was also at one time a shop. Her family lived there for she thinks about 30 years or more, and she herself was in service at Sadborow Hall on more than one occasion. These two people are full of tales of the old days although neither of them has ever travelled very far. Mr House can sing a lot of old songs – ones I've never heard before!
Hewood is attractive to the artists. At one time during the second world war, the artist Lucien Pissarro lived at No 16 and was often seen sitting on The Green painting. He died at Hewood in 1944. Not long ago one of his paintings fetched £13,000. (Lucien Pissarro 1863-1944) About 12 years ago a family of artists and illustrators lived at Higher Hewood, converting one of its outbuildings into studio. I remember after we moved to Thorncombe, one of the first fund raising events for the church was a fair organised by this talented family. Their lovely old house with its enormous fireplaces was just the right setting for the gathering with people dressed in costume, minstrels and all.
JUNE EDE
Taken from the late June Ede's unpublished manuscript, 'Thorncombe, A Village History'. June lived in Thorncombe village from 1968 until shortly before her death in 2009. Written in 1982 in response to a national Women's Institute initiative, it was donated by Mrs Ede, to the TVT history box in 2008. Reproduced here by kind permission of June's daughter, Penny Kennedy.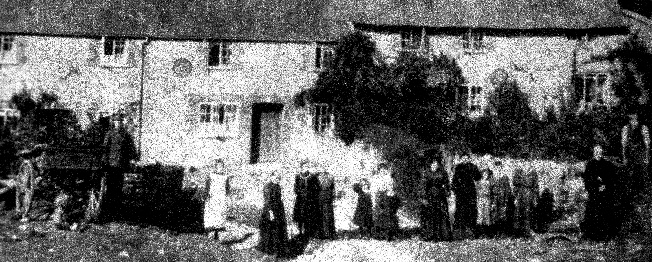 Villagers outside numbers 13, 14, 15 Hewood, circa 1900.
Thanks to Heather Roughton for supplying copies of the two early photos of Hewood's residents and the extra information from the 1901 census on Mrs Bidmead.