THORNCOMBE'S PARISH POORHOUSES & WORKHOUSES
and how the hamlet of School House got its name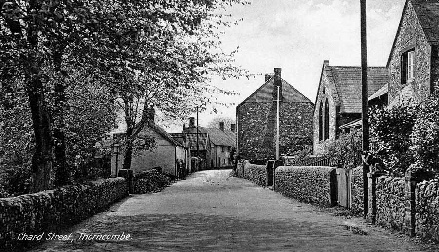 Chard Street, Thorncombe, circa 1910. Pictured right: Thorncombe's 19th century
elementary school, destroyed by fire in 1974.
Next to it (centre right) is the end wall of the 17th century parish workhouse which
survives today as 1-2 Church View.
Reproduced courtesy of Kate Rundle.
Introduction
Like other Thorncombe old chestnuts, the stories about Higher Farm aka Workhouse Farm or School House Farm being Thorncombe vicar Thomas Cook's parish workhouse and school contain grains of truth but they aren't the whole story.(i)
A paper trail in various archives enabled the identification of three parish poor houses. These were Forseys, Peadons and Lumbards. In addition there was a temporary workhouse which was closed down in 1734, on the site of Higher Farm. The new parish workhouse opened opposite the church on the site of what became the Victorian school. (ii)
Forseys and Peadons, which sold for £62 each to mason Bernard Phelps in 1837, stood on the site of Pennyhayne on Chard Street. Lumbards, sold to Henry Holt of Leigh House, Winsham in 1738, was on the parish boundary opposite Bere Farm. (iii)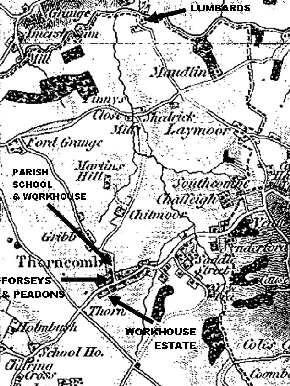 Detail from 1811 OS Map showing location of Thorncombe's parish workhouse and poorhouses.
© 2004-2015 of the Great Britain Historical GIS Project and the University of Portsmouth.
Poorhouses
In a nutshell the Workhouse Test Act (Knatchbull) 1722 required Vestries (from which today's parish councils evolved) to set up parish workhouses to compulsorily house able bodied paupers. The idea was that these 'Houses of Industry' would generate sufficient income to relieve the strain on the public purse. Money was spent on doing up Forseys, Peadons and Lumbards, which were probably being used to house the elderly, sick and infirm, but it seems they weren't big enough. So in 1724 work began on modifying the house on the corner of Witty's Lane and High Street then known as Ousleys. (v) This was the house which later became Workhouse Farm, then more recently Higher Farm. However the fly in the ointment was the death of leaseholder William Ousley in 1727.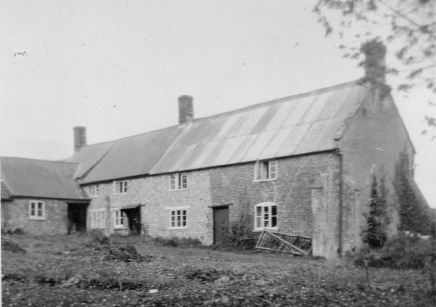 Rear view, Workhouse Farm circa 1955.
It was rented by the parish from William Ousley in 1725 for use as the parish workhouse.
Reproduced with kind permission.
School and Workhouse
Reading between the lines, William Ousley's death led to the reversion of the lease for Ousleys to the Sadborow Estate which owned the freehold. It seems owner John Bragge Esq was reluctant or perhaps couldn't afford, to give the property to the parish for use as a workhouse. The Overseers of the Poor accounts record how he gave the Vestry a breathing space to sort itself out while continuing to draw rent.
The parish school house which gave the hamlet of School House its name was founded under a charitable deed in 1613. It stood on a small plot directly opposite Plott House later known as School House Farm. The school house burnt down in 1734.(vi) This event appears to have been the catalyst for parish vicar Thomas Cook to create a new charity in his own name and donate his 'great house [now to be] known as the school and workhouse' opposite the church to the parish in perpetuity. For the next 100 years the 'Great House' as it was still called as late as 1821, functioned as the parish workhouse and school room with a passage in between, until the administration of poor relief was centralised under the Home Office in 1834. (Vii)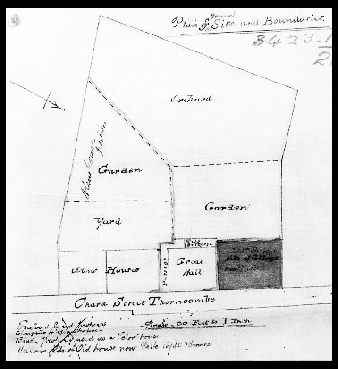 Cook's 'Great House' on Chard Street. Copy of 1873
showing proposed site of the new National School.(Viii)
Reproduced courtesy of Dorset History Centre and with the kind permission of Thorncombe Parochial Church Council.
Church View
Thorncombe's able bodied paupers were then sent to Axminster Poor Law Union Workhouse. The parish workhouse was therefore now redundant. Split into two houses, it survives today as Church View. Number 1 was pressed into use as a parish room for 'paying the poor, penny readings and vestry Meetings', and number 2 was rented out. In 1874 the schoolroom, which stood on the site of where Wellstone House and School House are today, was demolished to make way for the new elementary school. It too burnt down in 1974 but the schoolmaster's house survived. The former parish workhouse was sold by the Vestry for £110 in 1875 to help meet building costs for the new school and so far as can be ascertained reverted to and has remained in residential use up to the present day.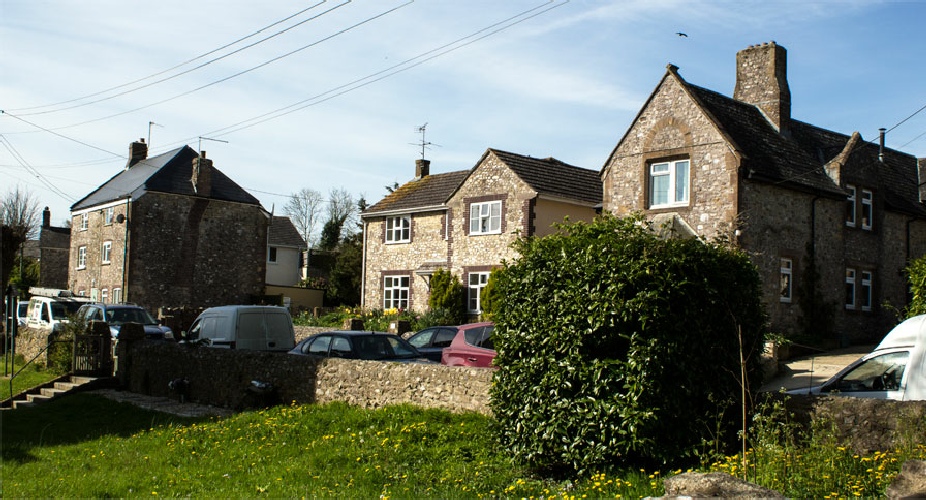 Church View above is the house on the left.
Abstracted from Higgs, E., Thorncombe's Parish Poorhouses School and Workhouse, pp. 202-212, Notes and Queries for Somerset and Dorset, Vol. XXXVII, Pt. 385, March 2017
EVE HIGGS
MAY 2017
(i) J. Ede, Thorncombe. A Village History (unpublished t ypescript) (1982); R. Farley, Thorncombe Life Memories and the History of the Parish (1995), 38; E. Retter, 'Thorncombe Workhouse' in The Dorset Year Book (1957-8), 117-118; A. Shipp, Poor Relief in Thorncombe 1722-1809 (2013), 20-22.
(ii) G. Andrews Moriaty, 'Additional Records Relating to the English Ancestry of the Bowditch Family; D.H.C., PC/THO/ 3 Thorncombe Parish Council. Overseers of the Poor ; T.N.A. CHAR 2/67 Records of the Charity Commissioners and Charity Commission. Commission for Inquiry into Charities: Papers. Devon ... Thorncombe; ED49/1785 Department of Education & Science. Elementary Education Endowment Files. Thorncombe Church of England School a) Reverend Thomas Cook and Elizabeth Bragge b) Girls School, 1872-1907; Somerset Heritage Centre DD\TOR/ 112 Winsham Deeds, 1647-1776.
(iii) T.N.A., MH12/2095/176 Sale of Parish Property Form 8 … Thorncombe Parish Workhouse.
(iv) Ordnance Survey, First Series, Sheet 18, scale 1:63360 (1811) on-line at www.visionofbritain (accessed 14.03.2017).
(v) D.H.C., D-MHM/8989 Thorncombe. Lease of cottage in reversion ... 28 Feb 1735.
(vi) D.H.C., D-MHM/9098A, abstract of title of Thomas Newman to lands in the parish of Thorncombe, 1734-1840.
(vii) B.L., Add. MSS. 9427, Lysons Notebooks, Letter from Charles Egerton,Vicar of Thorncombe to Samuel Lysons, Topographer, dated 11 January 1821, 116.
(viii) D.H.C., PE-THO/SC/8/3 Draft for a conveyance relating to the building of a school in Chard Street with plan. 1873.
Abbreviations
B.L. British Library
D.H.C. Dorset History Centre
S.H.C. Somerset Heritage Centre
T.N.A. The National Archives