HARRY BANKS, (1869-1946)
Synderford resident, artist/printmaker Harry Banks was born in London in 1869. Banks was one of six children and his father was a cabinet maker. He was educated at Goldsmiths College. Later in life he also studied at Antwerp and met Ethel Rowntree, a Quaker, who became his wife in 1902. In the same year he left his London dwelling in Chelsea to move to Thorncombe. This move was probably due to his friendship with the great artist Lucien Pissarro who loved the west country and was eventually to live near Banks at Hewood. (Lucien Pissarro 1833-1944)This friendship must have been particularly important to Banks. His later pastels in particular show Pissarro's benign influence. The art historian John Rothenstein has suggested that part of Pissarro's greatness was his influence on other artists. Two wood engravings and a conté drawing by Pissarro were among Banks' studio effects at his death.
Synderford House
The house which Banks bought at Synderford was probably built around 1730. Banks supervised the re-styling, much of it in the mock-Tudor manner. The interior, with its dark beams, cladding and panelling, split levels, and brick fireplaces is also reminiscent of the English Arts and Crafts movement. The living room (panelled by Banks) has a red brick fireplace, parquet floor, four grotesque heads as ceiling carvings (by Banks) and an open snug constructed from old church pews and stonework.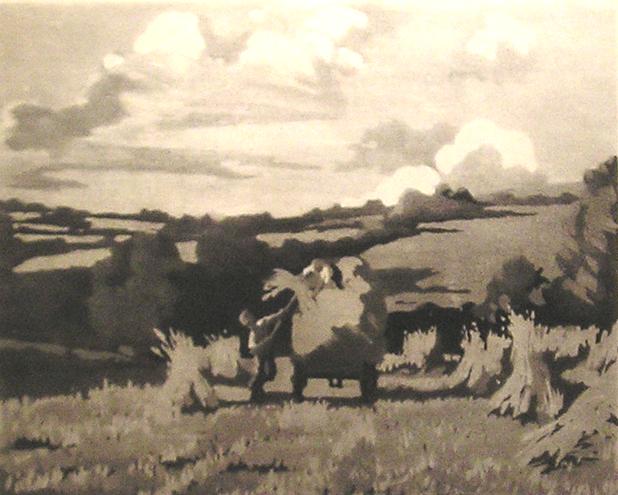 The cornfield, signed H. Banks [no date] Aquatint. Private collection. Reminiscent of the landscape below Chaffey.
Bristol
Ethel and Harry Banks had one child, a daughter Audrey. In her early years she was taught at home by governesses. Later she attended school in Bristol and the Banks took a flat at Clifton Villas where they lived during term time. During this period Banks produced many superb prints. He was a masterly printmaker (printing all his own plates and constantly experimenting) predominantly a working with etching and aquatint. His colour prints are exquisite, the tones restrained and subtle. The prints of Bristol are of great interest. They record the city and docks in the 1930s and 40s and show an originality of approach which makes them attractive to collectors. Holidays were sometimes spent abroad in France or Italy Banks usually financed them with his on the spot sales of watercolours.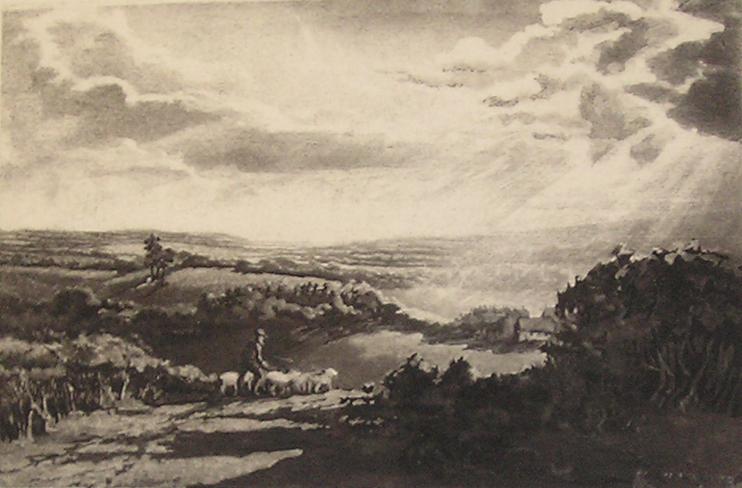 [Untitled] signed H. Banks. [no date] Aquatint. Private collection.
Two Scots Pines, middle ground left, may be those on the road above New House, Hewood
Thorncombe
The rest of the year would be spent at Synderford House. In the beautiful grounds tended by Banks and his wife there is an old cottage which the artist converted into a studio. In the grounds run tiny streams. There is a profusion of greenery and near the house a gentle stream. Here Banks devoted himself to his work. Like all true artists he could turn his hand to design and it was his work which was accepted from many for the invitation card to the coronation of Edward VII. Harry Banks had no gallery but exhibited widely, including at the Royal Academy, the Royal West of England Academy, the United Society of Artists, the Paris Salon and in America. He painted almost up to his death in 1946 and is buried in Salcombe. Ethel, his wife died shortly after.
JUNE EDE
Taken from the late June Ede's unpublished manuscript, 'Thorncombe, A Village History'. June lived in Thorncombe village from 1968 until shortly before her death in 2009. Written in 1982 in response to a national Women's Institute initiative, it was donated by Mrs Ede, to the TVT history box in 2008. Reproduced here by kind permission of June's daughter, Penny Kennedy.