A BRIEF OVERVIEW OF THORNCOMBE'S HISTORY
COVERING THE PERIOD FROM THE 11TH CENTURY
TO THE PRESENT DAY
Forde Abbey & Holditch Manor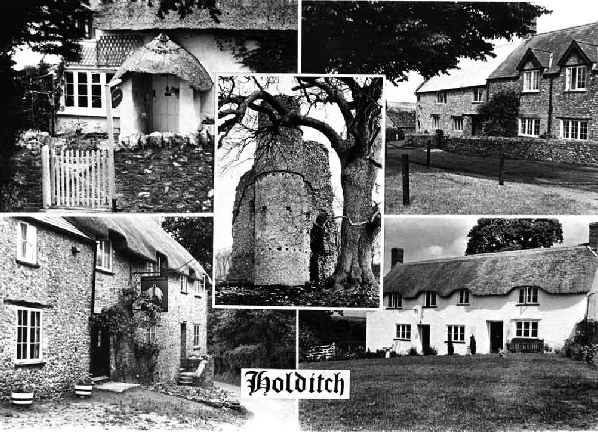 Pictured clockwise left to right: April Cottage; Manor Farm; Manor Thatch; Golden Fleece; centre: medieval fortifications Holditch Court.
© Ron Frampton. Reproduced with kind permission.
Until changes to parliamentary boundaries in 1844, the parish of Thorncombe was an isolated part of Devon inset into ancient maps of Dorset with the Rivers Axe, Blackwater and Synderford marking its boundaries. Writing in 1604, antiquarian Sir William Pole suggests its name comes from the Saxon and refers to the thorns which flourished in profusion across its waterlogged valleys. 1 The Devonshire Domesday and Geld Inquest of 1083 records that Thorncombe and Ford were held by Baldwin the Sheriff of Exeter, a Norman, and consisted of around 1800 acres of which only 91 acres were cultivated with a total population of less than 100. Of Holditch there is no separate mention in Domesday, suggesting that this part of the parish was still an overgrown wilderness at the time of the Norman invasion, so had no value and was of no interest to William the Conqueror for tax purposes. 2
In 1141 a Cisterican order of monks was given Thorncombe Manor by Adelicia de Brioniis, Baldwin's daughter, to honour her brother Richard's intentions to establish an Abbey at Brightley and to revere her brother's memory. The monks built Forde Abbey on the banks of the River Axe. The Medieval monks' dormitory is pictured above. A great religious and cultural centre, the Abbey and its surrounding estate thrived for three centuries until the reign of Henry VIII. Holditch was given to the monks by William son of Thurold, during the late 12th century. As a result of this and other gifts, and the buying and selling of land, the monks established the Parish of Thorncombe as we still know it today. 3 In 1313 Edward II granted the Abbot of Forde the right to hold a weekly market in the manor of Thorncombe and also a six day fair beginning on the Tuesday after Easter. Thorncombe's weekly meat, grain and cattle market ceased trading in 1773. 4 The annual cattle Easter fair at which cloth was also sold, stopped trading during 19th century. After its dissolution in 1539, the Abbey and the land falling within Thorncombe's parish boundaries were split up and divided between the Earl of Oxford and Richard Pollard, Esq. Thorncombe Manor was acquired in 1577 by the Bragges, a Devon family from Luppitt.
A manor house was built at Holditch during the reign of Edward III. The licence to gentrify it with ornamental fortifications and to enclose 200 acres to make a deer park was granted by Richard II in 1397. Its owner Sir Thomas Brook who died in 1417, is commemorated with a fine brass in Thorncombe parish church. Pictured above, the manor house's tower still survives as a Romantic ivy clad ruin, close to the farmhouse of Holditch Court, just a mile and a half west of Thorncombe village. The ruin of a Chapel of Ease, built for the convenience of the inhabitants of Hodlitch Manor, as as an outpost of Thorncombe parish church and dedicated to St Meloris, also survives at Manor Farm in the nearby hamlet. Holditch Manor was forfeited to James I when its owner Henry Lord Cobham, was accused of involvement in the plot against the King which also implicated Sir Walter Raleigh. It was briefly owned by the Bowditch family, then acquired by the Bragge family of Sadborow in the 18th century. 5,6,7
Civil War, Rebellion & Georgian development
Civil War Thorncombe was a divided community. During the Commonwealth Sir Henry Rosewell ( 1590-1656) who was a member of the Devon Standing Committee and Edmund Prideaux (?-1659), Oliver Cromwell's Attorney General, lived at Forde Abbey. Royalist parish priests, dramatist and poet Robert Gomersall (1628-1644) and John Bragge (1571-1647) both lost their livings and were fined. Cavalier Captain Richard Bragge of Sadborow fought with Lord Hopton. As a consequence he was fined and his property and lands at Sadborow and Childhay were sequestrated. Local legend has it that Reverend John Bragge was transported to Barbados for being involved in a Royalist plot. The parish burial register records that he is buried in Thorncombe churchyard. 8 John Bragge's namesake, a carpenter, was among ten out of 48 Monmouth rebels listed as coming from Thorncombe and transported to the West Indies. Of those also listed, 32 remained at large or unaccounted for, but six were hung, having been found guilty by the infamous Judge Jeffries, including attorney Matthew Bragge of Chaffeigh. Edmund Prideaux (Junior) of Forde Abbey was imprisoned in the Tower of London and subsequently released on payment of a large fine. The remaining ten were transported as slaves to the West Indies.9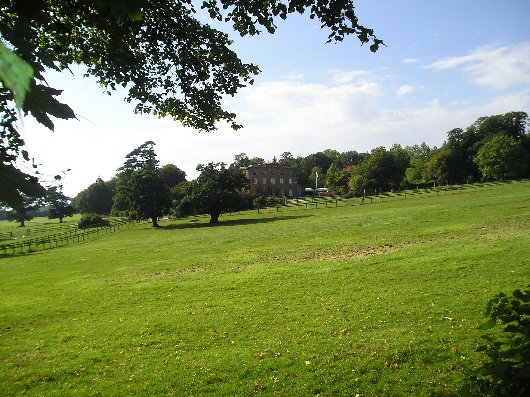 Sadborow Hall
The Georgian consumer boom saw the rebuilding of Sadborow Hall (pictured above), and status new builds such as Greenhill and the renovation and extension of other properties in the parish. As well as improving local roads and communications, turnpiking was a tempting investment opportunity for affluent members of the local community. Turnpike was the name for the revolving gate which were installed to prevent free passage. Tolls charged to pass through the turnpikes, paid for the maintenance of turnpike roads with any profits going to turnpike trusts' investors. Thorncombe's medieval King's Highway (running from Venn in the north-east down through Fore Street, and up through High Street to the cross roads at Thorncombe Thorn and thence Hawkchurch in the south-east via Shearing Cross and Easthay) was turnpiked during the 1770s. 10 In 1800 responsibility for its maintenance was transferred from the Lyme Turnpike Trust to the parish Vestry which had sole legal responsibility for the maintenance of all parish roads until 1835. 11,12 Of Thorncombe's tollhouses that at Stony Knapps has disappeared, but the one at Thorn remains and is now a private residence. 13
Click here to see a map showing the route of Thorncombe's turnpike road and how it fitted into the local network.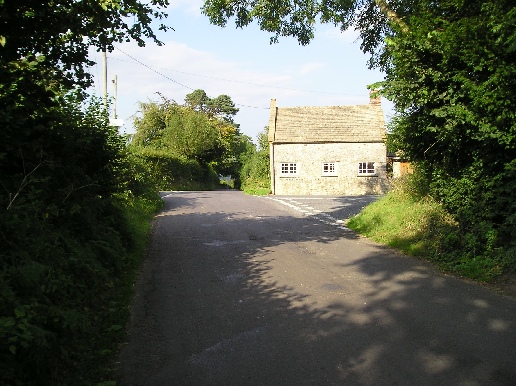 Toll House, Thorncombe Thorn
Woollen Industry & Population
As well as being sheep and dairy farming country, Thorncombe also had a thriving woollen industry, dating back to the 16th century. The parish supported a community of spinners, weavers, dyers and wool merchants, many of whom were Quakers. Thorncombe's Friends Meeting were among George Fox's earliest west country converts. Their meeting house and burial ground were at Higher Laymore Farm. Cloth production in Thorncombe continued well into the 19th century. In 1838, three woollen mills are recorded in the parish, employing 50 people, including seven children aged under 7. The overgrown ruins of Chaffeigh and Shedrick Mills and their leats, can still be seen on the banks of the Synderford
Thorncombe's population climbed steadily from around 950 in 1674 and peaked at about 1,500 in the middle of the 19th century after which it began to fall.14,15 In the second half of the century, when much of the English cloth trade centred on the north of England, there was high unemployment and the parish fell into decline as people left the area in seach of work elsewhere. Thereafter dairy farming became the principal means of livelihood.
There have been several big fires in Thorncombe resulting in extensive loss of housing. The 1882 fire swept through the south-east end of the village destroying over 20 houses, many of which were thatched. This fire left 70 people homeless. 16 A national Thorncombe Fire Relief Fund started for the victims, was so successful it was closed within a month and the victims' houses were rebuilt, including The Terrace on the High Street, using local flint and slate for the roofs. 17,18 However despite the fires of which there have been several over the centuries across the parish, many attractive period houses, farmhouses and cottages survive of which around 80 are listed. Several date back to the 17th century. The idyllic hamlet of Hewood (where artist Lucian Pissaro, son of the French Impressionist Camille Pissaro, died in 1944) is group listed. 19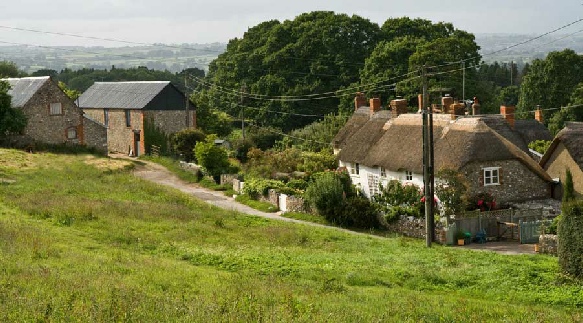 Hewood
Church & Chapels
There has been a parish church in Thorncombe since 1239. The old church was rebuilt just south of the original site in 1866. The new church, built at a cost of £4,000, is dedicated to St Mary the Virgin. It contains several monuments removed from the old church and includes five bells, re-hung and to which three new ones have been added. The bells are regularly rung by visiting bell-ringers. A Gospel Hall was built in the centre of Thorncombe village in 1881. By the beginning of the 19th century there were two other non-conformist chapels in Thorncombe parish. A Congregational chapel, at the top of Venn Hill, built in 1816, has been converted into a dwelling. The other at Stony Knapps, an Ebenezer Chapel, is also now a private house.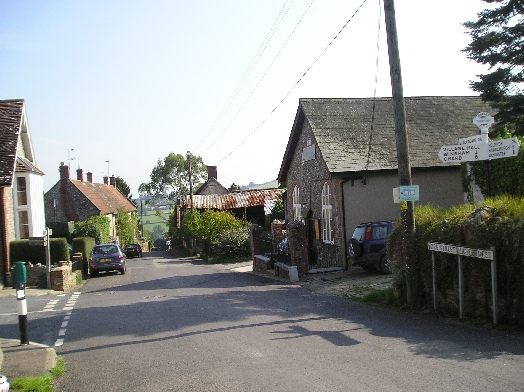 Gospel Hall, High Street
Moving with the Times
Until the 1950s there were two primary schools in the parish, one in Thorncombe, the other at Holditch. Thorncombe School was opened in 1876 but was destroyed by fire in 1974. A new school was built on a site close to the village hall. Holditch School closed earlier in the 20th century, because the parish could not support both. Since the 1950s Thorncombe has continued to move with the times. During the succeeding 50 years, social housing, a new village hall, a sports and social club, a small open air swimming pool and two new housing estates, Tansee Hill and Orchard Lane, have been built in the village where the majority of parishioners live. As in former times, the rest of the population which numbers around 650, lives in the hamlets of Hewood and Holditch or is scattered across the outlying area and connected by an intricate network of footpaths and narrow hedge-lined lanes. There is no longer a baker, cobbler, policeman, district nurse or doctor but there is a community shop and café, run by local volunteers, which opened in 2009. The village pubs, The Crown, The Golden Lion and The Royal Oak, have all reverted to private houses but residents can still enjoy a drink and a game of darts or skittles 'up the Club'.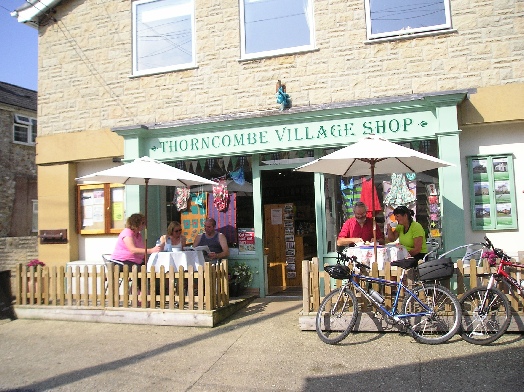 Thorncombe Village Shop in 2012
Sources
For those interested in the detailed history of the parish of Thorncombe or researching their family history, there is an entry in Lysons's Magna Brittania: Volume 6, Devonshire (1822) and a whole chapter devoted to it in Pulman's Book of the Axe (1854). Both Lysons and Pulman draw heavily on the work of Devon antiquarians Pole (1604) and Risdon (1635) 20 and Chappel's unpublished notes (circa 1778). Ron Farley has written Thorncombe, Life Memories and the History of the Parish (1995). Thorncombe's parish registers and other historical documents dating back to the 16th century are lodged at the Dorset History Centre in Dorchester. Thorncombe was part of Devon until 1844 until changes to parliamentary boundaries, when it became part of Dorset. Part of the Axminster Hundred, the parish also moved from the Diocese of Exeter to the Diocese of Salisbury in 1836. Historical documents relating to Thorncombe can therefore also be found at the Devon Records Office. Thorncombe parish's shared county border has resulted in various property records and other historical material also being held by the Somerset History Centre. Since 1982 the ecclesiastical parish of Thorncombe has come under the jurisdiction of the Diocese of Bath & Wells. The West Country Studies Collection at Exeter City Library also has a large collection of useful reference material.
EVE HIGGS
August 2011
REFERENCES
1. Pole, Sir W. (1791) pp. 112-114
http://books.google.com/books?id=WF4OAAAAQAAJ&printsec=frontcover#v=onepage&q&f=false
2. Devonshire Domesday and Geld Request Vol I (1884-92) pp. 551-552 http://www.archive.org/stream/TheDevonshireDomesdayAndGeldInquestVol11884-92/ZdevonshireDomesdayv1copy01bod#page/n9/mode/2up
3. Hobbs, S. (Editor) (1998) p. vii, ix, 84
4. Maxwell 1908, p. 240 http://www.archive.org/stream/calendarcharter00cunngoog#page/n225/mode/1up (accessed 31.08.2011)
5. Maxwell 1909, p. 85 http://sdrc.lib.uiowa.edu/patentrolls/r2v6/body/Richard2vol6page0085.pdf (accessed 31.08.2011)
6.Pulman (1854 ) p. 216 http://books.google.co.uk/books?id=7vcGAAAAQAAJ&pg=PP1&dq=%22book+of+the+Axe%22+%2B+Pulman&ei=g-7wS9rzE5HyzQS9ntSYCg&cd=8#v=snippet&q=thorncombe&f=false (accessed 31.08.2011)
7. Olvey (1907) p.31 http://www.archive.org/stream/notesonparishofm00oliv#page/30/mode/2up/search/Holditch (accessed 1.9.2011)
8. DHC PE/THO/RE1
9. Wigfield (1985)
10. Geo. III c. 59 (1770) pp. 124-125, 127
11. DHC DC/LR Acc No 8160 Minutes & Orders Lyme Regis Tunrpike Trust 1758-1877.
12. DHC PC/THO/4/1 Thorncombe Parish Council. Surveyors of Highways Account Book 1801-1836.
13. 1889 OS 1:1,2500 DORSET
14. Stoate 1982. pp. 14-15
15. On-Line Historical Population reports, llhttp://www.histpop.org/ohpr/servlet/Search?ResourceType=Census&ResourceType=Legislation&ResourceType=Essays&ResourceType =Registrar+General&ResourceType=TNA&SearchTerms=Thorncombe&search=Search&simple=yes&path=Results&treestate=expandne w&active=yes&titlepos=0&range=a (accessed 31.08.2011)
16. The Bristol Mercury and Daily Post (Bristol, England), Saturday, May 20, 1882; Issue 10613. 19th Century British Library Newspapers
17. The Morning Post (London, England), Thursday, May 25, 1882; pg. 2; Issue 34295. 19th Century British Library Newspapers
18. The Morning Post (London, England), Friday, June 02, 1882; pg. 6; Issue 34302. 19th Century British Library Newspapers
19. Farley 1995 p. 86
20. Risdon (1811) pp. 15-17 http://books.google.co.uk/books?id=uIdnAAAAMAAJ&printsec=frontcover&dq=Risdon&hl=en&ei=AUhfTp2KK8ea-gbo-JSDAg&sa=X&oi=book_result&ct=result&resnum=1&ved=0CC8Q6AEwAA#v=snippet&q=Thorncombe&f=false (accessed 11.9.2011)
BIBLIOGRAPHY
British Library British Newspapers 1800-1900 on-line at http://newspapers.bl.uk/blcs (accessed 31.08.2011)
The Devonshire Domesday and Geld Request Vol I (1884-92) Devonshire Assocation for the Advancement of Science, Literature & the Arts , Plymouth, W. Brendan & Son on-line at http://www.archive.org/ (accessed 5.9.2011)
Dorset History Centre (DHC) PE/THO/RE1 Thorncombe Parish Registers 1551-1812
Farley, R. (1995) Thorncombe Life Memories and the History of the Parish, Thorncombe, Ron Farley
Maxwell, H.C. et al (1908) Calendar of the Charter Rolls preserved in the Public Record Office Vol. 3, London, HMSO on-line at http://www.archive.org/ ( accessed 31.08.2011)
Hobbs, S. (Editor) (1998) The Cartulary of Forde Abbey, Taunton, Somerset Record Society
Lysons, S. (1822) Magna Brittania: Volume 6 Devonshire on-line at on line at www.british-history.ac.uk (accessed 31.08.2011)
Maxwell Lyte, H.C. (ed), 1909, Calendar of Patent Rolls Richard II (1396-99) Vol. 6 on-line at http://sdrc.lib.uiowa.edu/patentrolls/r2v6/body/Richard2vol6page0085.pdf (accessed 31.08.2011)
Olvey, H. (1907) Notes of the Parish of Mylor, Cornwall, Taunton, Barnitcott & Pearce, Aethenaeum Press on-line at www.archive.org (accessed 11.9.2011)
On-Line Historical Population Reports on-line at http://www.histpop.org (accessed 31.08.2011)
Pole, Sir W. (1791) ,Collections towards a description of the county of Devon: By Sir William Pole who died 1635, ... now first printed from the autograph in the possession of his lineal descendant Sir John-William de la Pole, Bart. ... Printed by J. Nichols; and sold by Messrs White and Son ... Robson ... Leigh and Sotheby; and Payne, junior on-line at
www. google.com/books (accessed 7.9.2011)
Pulman, G.R. (1854) Book of the Axe on-line at www. google.com/books (accessed 31.08.2011)
Risdon, T. (1811) The Chorographical Survey of the County of Devon … , Plymouth, Rees & Curtis on-line at
www. google.com/books (accessed 7.9.2011)
Stoate, T. (Ed.) (1982), Devon Hearth Tax Return, Lady Day 1674, Bristol, Stoate
Turnpike Roads in England www.turnpikes.org.uk (accessed 7.9.2011)
Wigfield, W. (1975) The Monmouth Rebels 1685, Taunton, Somerset Record Society Vol. 79