THORNCOMBE'S QUAKERS
Records of Thorncombe's tradition of religious dissent date back to the first half of the seventeenth century. The 1889 OS map shows the location of a Quaker burial ground at Higher Laymore Farm, (see above). Thorncombe's meeting house and burial ground date back to the eighteenth century and were used for at least 36 years if not more.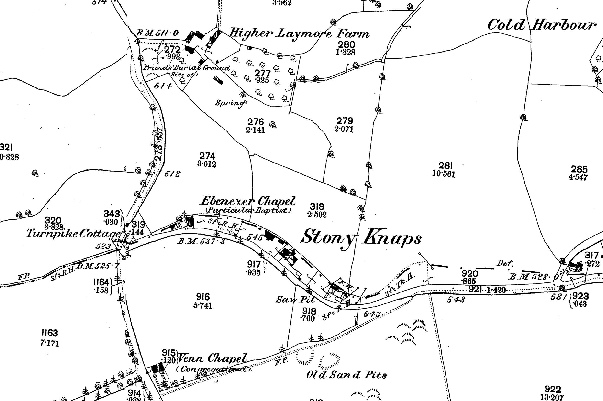 1889 OS map showing site of Friends' Burial Ground. © Ordnance Survey
Reproduced by kind permission
Evidence of Thorncombe's long forgotten Society of Friends is hidden away in the parish Burials in Woollen Affadavits book. The law required all corpses to be wrapped in wool and formally witnessed. Quakers excepted, there was no religious objection among other non-conformist sects to burial in consecrated ground. The book spans 1680-1745. Entries for 1723-1727 are missing from the original document but survive as entries in Noble's 1966 transcription of the parish registers in the Devon Records Office. Sixty six individuals buried in wool but not listed in the burial register have therefore been indentified as Quakers. The last recorded Quaker buried in woollen was William Ousley in 1735.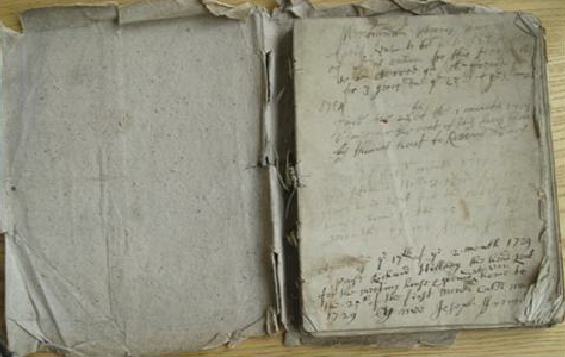 Minutes Book of Thorcombe and Membury Meetings 1677-1727
'payd Richard Hillary the land Rent for the meeting house & [burial ]ground at Ven'
©Devon Records Office DRO ref: 3408D Reproduced by kind permission
Thorncombe's earliest recorded Quaker found to date, is Hannah Limbry who married [cloth] maker Peter Loman from Honiton in 1672. The first mention of a Thorncombe Meeting in the minutes of the first Devon Quarterly Meeting of June 1676, puts Thorncombe's Society of Friends among George Fox's west country pioneer converts. The joint minute books of Thorncombe and Membury Meeting covering the period 1678-1727 have survived and show that Membury and Thorncombe began to hold alternate meetings from 1696. Thorncombe meetings were held in the house of Robert French possibly at Synderford, where later his sons were cloth merchants, from 1689. Details of a 99 year lease for a dedicated meeting house for Thorncombe, acquired in 1701, are recorded by the Plymouth Quarterly Meeting of that year. According to the monthly minutes book rent was paid in 1704 by Joseph French to Richard Hillary for 'our meeting house and ground at Ven' In 1714 Amos Phelps agreed ' to keep the burial ground in order'. Richard Hilary left 'the meeting house' to his grandson of the same name in his 1737 will. The meeting house was used up to at least 1737.
For a more detailed account, references and a bibliography go to:
http://www.foda.org.uk/main/projects/eighteenthcentury/thorncombe/quakers.htm
©EVE HIGGS
March 2012