MEMORIES OF A THORNCOMBE EVACUEE
(NEW MEMORIES ADDED AT THE END OF THIS ARTICLE)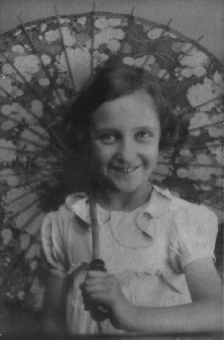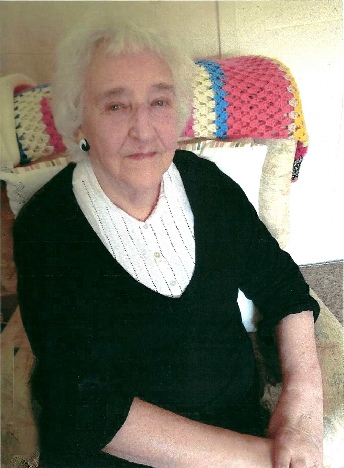 Louise May Silver Louise in 2014
Rachael Whitbread writes:
Louise May Silver (born 1933) was evacuated to Thorncombe in 1942 when she was 10. She recently got in touch when she saw the pages on Wilfrid Potter on this website, as she had been friends with him as a child. We have exchanged emails and she has amazed me with her very clear recollection of events from 73 years ago. Her time here was very special to her and her memories are strong and vivid.
[My additions in square brackets and italics have been made to clarify various points.]
Here follows Louise's account, and answers to questions I sent her:
I was an Evacuee from Sept.8th - July 43 and lived right opposite Wilfrid and his Mum (Who were very kind to us from a distance, they were not close people) There was another lady in the house but not sure of her relationship. When we knew the family they were living in High Street about No.3. Doris and I were billeted together and were actually taken out in a car on several occasions when Wilfrid was home from University for trips. etc.
Doris and I got placed with Mr & Mrs Edmund Downs [at Fernleigh] (Mrs Gwen Downs had originated from Drimpton). Granny Bonfield lived in the last cottage in the row where Wilfrid lived and I think owned all the now Orchard Gardens. [Now known locally as Potter's Field]. All the [Downs] family originated from Thorncombe and Edmund was known everywhere due to his occupation as Assistant Baker and Delivery 'Boy'. In winter he would go out at 4.30 a.m. to help with the baking, load up the van, put iron chains on the wheels, and first climb from the Bakehouse to us the last house at the top (next to what used to be a Pub) (The Downs lived in 2, Fernleigh, High Street at that time). Then he came in as were going to school for his breakfast, and believe you me that was no War Time Feast. (Our eyes goggled at such luxuries.)
Doris and I used to see Wilfrid on very rare occasions in those days as he was away a lot, but when we did see him it was usually fetching water from a stand tap (which was put soon after we arrived, we first went to a pump next to the Town Hall. We had lots of fun round that pump) for the ladies who lived in No. 4 High Street. One we assumed was his mother and the other perhaps an Auntie.
At this stage if we were looking out of windows and he passed he gave a kind of nod smile, and then returning from school one day Mrs Downs told us we had been invited over to the house for TEA. We were both well mannered children 10 and 11, but never been used to having Tea with "POSH" People. Bathed in the Tin Bath, Hair Washed and new Ribbons from Bridport Woolworths, off we went with posy from the garden.It was a great success once we settled down, and got invited again about 3 months later (all to do with Term Times thinking back).
Came Christmas 1942 we were invited to go with Wilfrid in a Car (A CAR MIND YOU!) to visit Shops, (and cannot for the life of me remember where that was, have tried for years, it might have been Chard as that was our nearest) We had Tea in a small Tea House and Wilfrid left us and went into a Jewellers to buy some Christmas presents, only later found that two of the presents were for us. On Christmas morning we visited Wilfrid and Mrs. Potter as requested.We had a hot drink and then Wilfrid quite shyly came in with some presents and two of them were for us. Doris had a beautiful Gold Cross and Chain and I a Silver Engraved Thimble. (They all knew I loved sewing).(I was naughty, I really did love Doris's present more than mine).TIME THEN TO GET READY FOR CHURCH. We had never had presents like this or even seen such lovely things and in boxes too, we kept opening them all morning and having a peep. In the end Mrs Downs took them to keep them safe.
After that when Wilfrid was home he would quite often take us for short rides up to Venn Hill, turn right by the Chapel at the very top and we would find the most beautiful countryside with Daffodils and small Streams, loads of Birds. I always remember the tall Bull Rushes and water Irises.One could walk for ages in all this beauty. (Never seen the likes in this part of the world). Out of all these wonderful events I have not even one photograph. I have a feeling Wilfrid may have taken a couple and even Mrs. Potter taking one in her back garden. If so they were never shown to us. How I on many occasions wished I had something of those days to show to my children, Grandchildren and Great Grandchildren, (I have two).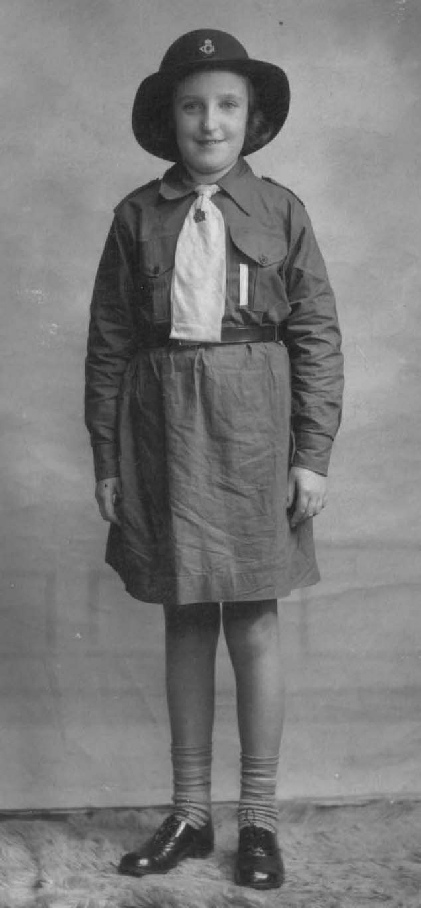 Louisa, in her Girl Guide uniform, 1941
The unironed uniform and terrible knotted tie, had gone all the way to Bridport in a large suitcase,
hence the look of it, I was so proud to be a Girl Guide and when I was made section leader (note the stripe) felt very honoured. Our Leader was like to-day's Supply Teachers she came from London and was only about 30 and we got on famously, we could not have all of the uniform bits and pieces because they were not sent from H.O. Some of our lessons in those days were held in the Village Hall (I believe she may have been exempt for some reason). She taught me to do the Velita, etc.,and my love of dancing has never wavered. (Any kind from Waltz to Jive).
When we were out and about we mostly talked about our schooling, and the way we had to work, such as bringing sacks of chips from the Forest that we used to collect and then take over fields and stiles to home. It was a very painful experience as the chips had big points on them and they would come through the sacking and hurt terribly. They made excellent fuel to eke out the coal. Mr Downs came with us on occasions and that was really good as he was a very nice kind man and would joke with us.
Then there was the making of Camouflage nets for the Army. Some of them so big it took three Soldiers to tie them in 3 places and carry them onto the lorries. Some houses were so full of them just before Collection day we hardly had space to live. Everybody had a needle and you were expected to do at least one row whenever we had a minute to spare, the biggest which we used to make were 100 loops across. The string chapped our hands dreadful and the weight on our shoulders was painful to say the least. If we were home from School on Collection days it was great fun all the ladies came out and laughed and joked with the soldiers and some had a cigarette waiting to have the nets counted and then they were paid. Never did find out how much they received for each net. It was a very jolly day for everyone who wished to join in.
We were very well kept re cleanliness etc and always looked smart under the circumstances. Expenses were requested from Home if we needed anything new or bigger! And it must have been quite a struggle for my Mum and Doris's as they both were War Poor. Both Mums tried to send a 6d or 1/- PO about every 6 weeks, after cashing same at Mr Bonfields we purchased a bar of the cheapest (sweets) We saved 3d or 6d towards going to Chard on a Saturday Afternoon now and again, in Mr Bonfield's Charabanc. We could never afford the Cinema and did not have enough time. Once Walt Disney was showing and I would have loved that.
We lived on Rabbit Stew (Mr. D. was the local Rabbit Catcher) and with veg from the garden and bread from the Baker (Mr D. again), we were soon as fat as houses. Breakfast was 1 egg once a week with Bread, and Bread and Home Made Plum Jam for Tea. (I still cannot look at a jar of Plum Jam without wincing!) Although it was monotonous it filled our tummies. When we used to take Baby Jill out for her walks a lovely lady in the big house on the right hand side going up to Turnpike [this must have been Mrs Greenlees from Greenhill] when fresh Plums were in season would come out and give us some in little bags, and I have never tasted anything then or since like those plums and such a great treat. I often remember her and her kindness. She gave Doris a lovely Hat & Coat once, I should have loved it but too small. We were known to a lot of people and think we were liked by most. And being as she was so kind to us whilst we were up there one day we saw loads of eggs all over the place, so we collected every one and took them in to her, and she explained that the Hens do that and she goes out at night before dark and collects them. (We were so green in those days of the ways of the Countryside.)
Great story about school – after about 3 months we were left with only one teacher and Head Mistress, the one and only Man Teacher had to go in the forces. NO TEACHERS NO LESSONS. Within a week I should say bags and bags of Triple Navy Blue Knitting Yarn turned up, and if we wished we could knit all day, long socks, scarves, pullovers with polo necks, gloves, etc., a bit ribby at first but as soon as we got into the swing of things we produced some very wearable warm garments. (They were collected about once a month)
Two of the Ladies used to make great big pans of Stew every day for those children wishing to stay and those that had too far to go home. Yes, you've got it STEW, STEW and MORE STEW as we stayed at least 2/3 times a week.
When you first arrived in Thorncombe it must have been a big change for you and Doris. What memories do you have of this time?
We were travelling for approx 12 hours without proper food or drinks. Arrived Village Hall about 8 pm with a selection committee to usher us in and then we began to get chosen. As far as memory takes me there may have been about 10 of us. Doris had a brother who was with us named Sydney Creffield, he went to a lovely couple in Chard Street very end house on left hand side before our school , and he settled and was very happy there. Mrs. Downs was there and chose we 2 girls that was left. After the kind of housing we left behind, and I like Doris were poor to say the least, Mrs. Downs' cottage was lovely and it smelt fresh and of baby powder (funny the things you remember). We were taken upstairs and saw Jill asleep in her cot, she was so lovely (born 24th May Empire Day). Cannot remember much more after that other than sleeping with Doris on the large landing in a single bed. We were both skinny then so that helped.
Twin girls went with another good family right at the end of Chard St. LH side just before Mr.Bonfields Garage, and kept themselves separated except at school, but were very happy. Two other girls went over to Forde Abbey and had a splendid time as they lived in with the downstairs servants etc., and boasted at school of the lifestyle they led. No carrying wood from the Forest or making String Nets for them.
Thorncombe to me was wonderful and the games we played in the fields as it was Harvest time, and everyone so friendly was a complete different world. And I loved school as we did have a couple of teachers at the beginning.
Was it the first time away from home for you both?
It was the first time to anywhere for both of us and even the train and bus journeys were new and scary, Sydney was six and he found it a bit too much at times. (As per TV Documentaries) there was no one looking after us or giving out drinks and sweets, we only went to Toilets at official stops which was usually a school.
Were there other evacuees in the village? What did the village children make of you all?
Two of Ten (we did not know) were sent down to cottages right down by the old Bakehouse, we understood they were not very happy and had someone come and take them back home. The rest of us only met at School or Church as we were rather scattered. Although my memory is vivid with regard to events and places, NAMES have almost all gone. You did mention the name of Farley and it rings loud bells, did they have children a little older than us may-be and lived on the corner of Chard St. LH Side in a house with steps [I was able to tell Louise it was indeed this family]. We spent many happy hours playing on those steps and round the pump again singing songs of the day such as Run Rabbit Run, and the one we learned from the boys and girls who came to the Pub on Sats. She'll be wearing pink pyjamas when she comes etc. And those lucky enough to be able to listen to the Radio. ['Its'the Man Again'] ITMA was a great favourite and discussed in full.
Did your mothers ever visit you in Thorncombe? Did you go back home for holidays at all?
My Mother and Father came Xmas 41 and stayed one night with someone in Chard Street. They went the next day with Mr. Bonfield in his Charabanc as the weather was deteriorating fast, to Chard Junction but the vehicle broke down due to the snow and the poor loves had to take their shoes off and walk the rest of the journey, at least half a mile I have been told. My dear Mum suffered severe Frost Bite and both of them took a long time to recover because of the severe cold. Dad had to return to his ship 2 days after arriving home and was treated on board with "Cold Damage". When the Chara. left the Garage I stood in the middle of Chard Street crying my eyes out and my Dad was looking out the back window and waving and as young as I was I knew that would be the last time I would see him. It was! His ship was Torpedoed in June 42 with all hands lost, he with the others are on the Monument at Tower Hill, London. Mum came down with an uncle and I was told the news swinging on Mrs. Hussy's and our Gate. No fuss no bother you were told and you got over it in your own way, I went and played amongst the chickens in Granny Downs Orchard.
[Louise refers elsewhere to often 'playing in Granny Downs Orchard with all the old sheds and chickens for friends, as my evacuee sister Doris was more of an indoor girl than I'. There was an orchard which was several hundred years old on the site of Milliways behind Fernleigh until the early years of the 21st century]. My Mother came about 2 months later and took me home, hence the rush to leave as she had special time off from her War Work
LOUISE MAY ONIONE (NÉE SILVER)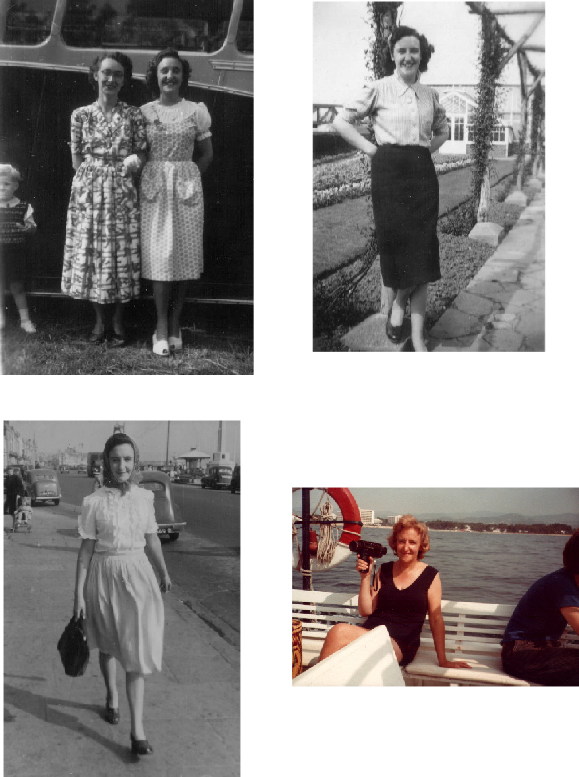 Above:Louise in 1946, 1948, 1949, and more recently
Since this has been online we have been contacted by many people expressing interest and delight in Louise's story. One reader wanted to know what war work Louise's mother was engaged in. I asked Louise and this was her reply:
One Gentleman asked about my Mums War Job? nothing exciting it was a Laundry that originally laundered for the local populace, and then at the beginning of the War they re-designed the interior and made it so it could cope with Military Washing and my little Mum was on a machine called a COLANDER that took the wet sheets,(one woman each end) and put them through this Colander to wring and straighten them before pressing, (which acted the same as ironing). They worked 10 hour shifts with 1 hour break. and a 15min.pm.
They played Music all day long and of course WORKERS PLAY TIME at 12.30pm.

With many thanks to Louise for these wonderful memories.

Hopefully this is just the beginning of this fascinating area of our history. If you have any memories of Thorncombe as it was - it doesn't have to be from very long ago, do please get in touch. We hope that reading this will remind others of people and places they knew, and will provide younger people, and newcomers to the village, an absorbing and useful resource.
New! The recent heavy snow has reminded Louise of snow in Thorncombe during the war , and she sent these vivid memories to add to the above:
Snow story 1:
I cannot be precise but Jan.1940.....showed us Evacuees what real snow was.
In our new Wellingtons and waterproof Pixie Hoods Doris, Sydney & I crossed over the road
and clambered up the path (one side being the big house No.1 High St.) and the other
side the Forge and above that the other house that we never actually saw (as it seems now in memory to have been covered by trees and foliage). I always thought there was an Anthony lived there with Mum and a Sister (I have mentioned before I think that I was really sweet on him) but saw very little of him as he went away to school and was often poorly, with Asthma?
Immediately above here was open fields which in Summer was fully cultivated and this land was quite high above the High St. ..... (On arrival Sept.39 within a few days the Harvest took place.)
This was a different kettle of fish though, we got into drifts so that we could hardly put one foot before the other and almost waist high, it had long ago gone inside our Wellies.
Sydney began to cry as he was smaller than us and I think he thought this new found snow
adventure was not up to his liking and was very scared and so were we.
The more we tried to pull him up and out the further we went in, both Doris & I at this point
realised we were in rather a dangerous situation and although we could clearly see tops of houses in the High St. no one would hear us or be able to see us.
We did get down eventually on our legs, hands and bottoms as far as I remember and we had the sense to keep Sydney somehow in the middle.
This was our first real feel of snow and I don't think we thought much of it on that day.
I do not remember Mrs.D being too cross but think she had a laugh at these
London Evacuees being up there in all that snow as we thought to PLAY!!!!
Snow story 2:
One very snowy morning Doris & I went down as far as the Pump (then opposite the Chapel)
and a group of locals and evacuees if I remember right.,had congregated and
they were talking of going sledging. Doris & I feeling a bit out of it went up to the House again. On our way poor Mr.D was coming up from the bottom with chains on wheels
and we told him our sad story , he went in the yard to take his wellies off and called out come
over here and listen to me.
If you go down and speak nicely to Mr.Bonfield he has an Enamel (very smooth and shiny)
Coated sign which fell down off of his facing wall (I believe it advertised Sunlight Soap) 5ft.x5ft?
If you put a sack inside it, sit on and with some arm work it will go, and fast at times so be careful.. We went round and got Sydney and he brought a friend which was a blessing.
Of course it was left to me to do the talking with Mr.Bonfield snr. and bless his dear old heart he
said yes and he and the younger one went round the back to fetch it round to the front .They put it on the Snow and the rest speaks for it-self. We gets to the place we needed to be (but cannot for the life of me think where it was, only know it was very high ground to the right of the High St. Children I bet still go up there to-day and do the same as us)
On arrival others were having a great time, the snow was knee high, Sydney and his mate went
down first and fell out half way, realising at this late point we needed something to hold onto and pull it back up with.
A couple of the boys were wearing those Elasticated Belts that were popular then, and we girls took belts off of our coats and somehow managed to make a loop to go round this home made
delight. Sydney and mate went down again and done better this time as they guided it with hands into the snow, and managed to get it back up with this home-made strap affair.
Doris & Sydney next (who is that hiding behind those bushes looking very pale?) and they
done very well but fell out long before the bottom and was able to get back up again without too much effort. Doris wanted to go again she enjoyed it that much.
It was now the turn of her from behind the bushes and scared stiff I sat in with Sydney's friend
and he and I done extremely well and went sliding the whole way (by now underneath had become iced up and of course was giving us speed). We hooted and shouted more out of fear than enjoyment as we could see where we were headed.
Yes you have got it we could not stop and we ended up in the ditch at the BOTTOM with brambles and allsorts making the snow fall all over us.
Getting up was a great difficulty and we were in very deep, the sledge we could not see was over somewhere, we could not go back without it so set about trying to find her and haul it out and pull her up with the home-made strap that was now soaking wet.
A crowd with D & S could see we were in real trouble so came down on sledges and bottoms to help us back up, and we limped home like drowned rats.
Now you can understand why I remember Thorncombe Winters so vividly and with such Joy.
Louise -Ex Evacuee from East London.
Thank you Louise for bringing it to life!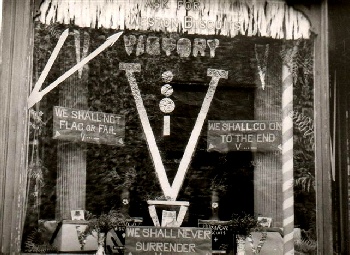 Bonfield's shop window 1941 Courtesy of Mr & Mrs B Frampton
Aladdin Panto in wartime
We had a School teacher, she was short and dark, hair in Bun.
She was a lovely and was the brains and hard worker that produced our Aladdin pantomime, helped by our London teacher that taught a certain age group of children in the Village Hall as School was full. Between them they made every costume and often out of Crepe paper that had to be repaired often.
The Panto was performed over two evenings Frid.& Sat. sometime in December 41 or 42 and we had a Photographer from the local press (?). The Hall was full to bursting both nights.
(I was Aladdin and a boy friend was Twanky
We had a couple of Americans in, but do not know where from, and during the interval (to put us back together and mend torn costumes) one shouted out
'Better than on Broadway.' I only knew what this meant as before Thorncombe I had gone to cinemas with my Grandma & Broadway was talked of a lot in the films of that era. I remember people laughing and clapping at the comment.
I have often wondered what happened to those photographs. We were never shown any, but they must have gone to someone perhaps one of the Teachers although being as they were so proud of our performances they would have shown them to us I know.
Does anyone remember this production, or know of any photos? We would love to copy them and put them on the website. All photos are taken care of and returned to their owners after scanning.
Please contact us if you can help. Thank you
The Home Guard (Dad's Army)
they were very proud and very dignified when on parade with Shovels & Pitchforks etc., to the ready outside the Village Hall, I suppose there must have been a dozen or even 15.
One Officer (self made I feel) but very efficient lived in the beautiful (or two) cottages, down past Mr.Down's Bake House on the right hand side on the slope going down to Mr.Bonfields Garage.
He always had a beautiful display of flowers outside the front doorway which was almost on the roadside.
We two elder Guides were allowed to stand and listen to the drill orders etc., as we had been allocated jobs should the invasion come, as mentioned before I was the one to light the bonfire on the top (I know now) of that hill where we sledged down.