THORNCOMBE'S LOST ROADS & HIDDEN HOLWAYS
Many of Thorncombe parish's footpaths are survivals of an earlier road network consisting of prehistoric ridgeways, forgotten medieval holloways and lost roads.
Turnpikes
During the late 18th century these lost roads provided alternative routes for travellers wishing to avoid paying tolls to use the newly upgraded turnpiked roads. See Thorncombe's Turnpike 1770-1800 for a detailed map. Subject to a successful application to the county Quarter Sessions, many of these highways were stopped up in an attempt to maximise revenue from tolls. The only known surviving Devon Quarter Sessions application to stop up a Thorncombe road is dated 1798 and relates to a road running between School House and Sadborow . Another such former road which used to link Sadborow directly to Marshallshay (Marshallsea/Marshwood), is shown on one of the first the 1811 Ordnance Survey maps. The Board of Ordnance carried out a survey of all usable roads for military defence purposes from 1805 along the southern seaboard, in case Napoleon invaded the south coast. By 1889 the Sadborow/Marshallshay road was designated a footpath. Responsibility for the Thorncombe turnpike reverted to the parish in 1800 so the tollhouse at Thorncombe Thorn was closed which enabled any canny traveller from Marshwood Vale to cross the Axe Valley via Forde Abbey to the Chard/Crewkerne turnpike and probably beyond without paying a toll. Therefore, given the Marshallshay/Sadborow road conveniently joined the Lyme/Crewkerne turnpike approximately 50 yards west of the Birdsmoorgate tollhouse, it is likely that what is now a footpath was stopped up during the early 19th century at the behest of the Lyme Crewkerne Turnpike Trust in a bid to maximise income at the Birdsmoorgate toll house.
­­­­­­­­­­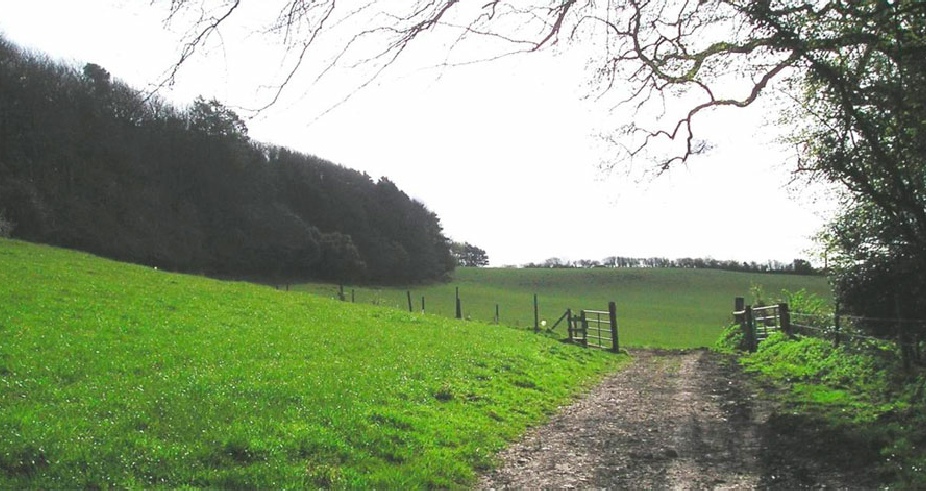 Old Marshallsay Road © Eve Higgs
Holways
Medieval holloways or sunken lanes (also known as hollow ways or holways) were worn down over the centuries into the fabric of the landscape by countless pairs of feet, pack horses and herds of sheep, cattle, pigs and geese being driven to market. The geology of West Dorset, South Somerset and East Devon facilitated traffic erosion which makes holloways a familiar feature in the regional landscape. Thorncombe's weekly Tuesday market and Easter Fair dates back to 1313, though no records relating to its trading activities survive in the intervening 400 years until 1724 when the market house and market place was repaired. Thorncombe Market stopped trading in 1773 or thereabouts but the annual Easter Fair continued to be held for the next 250 years or so. In 1983, elderly residents recalled going to the annual Easter Fair as children, circa 1910. 'Held in the main street of the village', they remembered buying ' gingerbread, etc., from the stalls'. Records are patchy so it is not known when the last one was held. Nearby Chard, Crewkerne and Axminster each had their own weekly markets and regular cattle fairs. These towns are all roughly equidistant from Thorncombe. Under a 1327 charter, to protect trade, markets had to be at least 6¾ miles/10.86km apart; a day's walk to and from, for those living furthest away from them.
Ridgeways
Four thousand years ago, itinerant prehistoric hunter gatherers travelled between winter and summer grazing grounds with their families, cattle, sheep and other animals. Lush grass grown in the hills and valleys of Dorset provided their winter grazing. Somerset gets its name from the rich summer meadows on what is now known as the Levels. Prior to being drained, The Somerset Levels were flooded throughout the winter. Draining the flood plains began in the sixteenth century and still continues today. To reach the grazing these early farmers travelled along ridgeways, the tops and sides of hills, tracking the watersheds of rivers in the valleys below. Sadborow Road, a ridgeway shadows the course of the River Synderford.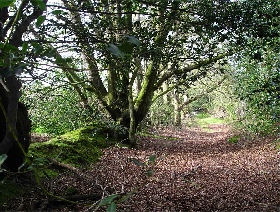 Holloway near Thorncombe© Eve Higgs
Less muddy than the valley bottoms, so easier to negotiate, ridgeways also provided a clear view of the way ahead. Ridgeways were the main trade routes until the end of the 17th century when building of new roads and canals began. However, ridgeways and holloways continued to be used by drovers taking their charges to market, until the coming of the railways in the 19th century.
Walk 10 travels backwards and forwards through four thousand years linking fragments of these lost roads and ancient hidden highways.
© EVE HIGGS
January 2018
References
Devon Heritage Services, QS/113A/193/1 Thorncombe (now in Dorset). Stopping up roads from Hursey's Cottage and Carpenters Shop on Lyme Regis road to Green Close Gate and then on to Sadborow Pound on Broadwinsor Road. Owner: John Bragge. Plan, order certificate and receipt. (Aug 1798).
Ordnance Survey, First Series, Sheet 18 (1811) on-line at http://www.visionofbritain.org.uk/maps/sheet/first_edition/lm_18 (accessed 27.12.2017)
British Library, Ordnance Survey Drawing OSD54 Beaminster (1806) on-line at http://www.bl.uk/onlinegallery/onlineex/ordsurvdraw/b/002osd000000007u00039000.html ( accessed 27.12.2017)
Ordnance Survey, OS County Series DORSET 1:2,500 (1889) https://www.old-maps.co.uk/#/Map/338194/101223/12/100145 (accessed 27.12.2017)
Higgs, Eve, A Brief Overview of Thorncombe's History Covering the Period from the 11th Century to the Present day (2011) on-line at http://www.thorncombe-village-trust.co.uk/page22.html (accessed 27.12.2017)
K.J. Bonser, The Drovers. Who They Were and How They Went: An Epic of the English Countryside (Newton Abbot: Country Book Club, 1972), 17-20.
Dorset History Centre D-MHM/8446A Thorncombe Presentments. ... 22 Oct 1724.
Henson, Mrs E.J., Dorset Garden Gazette, 1951 quoted in Joint Parish Magazine, Winsham, Thorncombe, Cricket St Thomas, March 1983, 8.
W. Addison, English Fairs and Markets (London:Batsford, 1953), 61.
G.B. Grundy, 'The Ancient Highways of Dorset, Somerset and South-West England', The Archaeological Journal, 94 (1934) , 258, 279.