VILLAGE LIFE IN THE 1980'S
Pubs
Our old village pubs have long since been converted into private dwellings. The last in the village to go was the Golden Lion, which so narrowly missed being destroyed by fire in 1887. Unfortunately it did not escape the over energetic attentions of on the brewery's manager, whose DIY work was such a disaster, that the brewery put off re-opening it as a pub on grounds of sheer economics. A short while before this decision was taken, an appeal by the village had saved it from closure. Built in the 17th century and formerly part of the Sadborow estate, it was once known as the White Lion. In January 1724 William Bragg of Sadborow leased the inn to Walter Hallet whose name appears among the list of parish Overseers of the Poor. The tenant could also keep a couple of greyhounds if required.
The Crown Inn (now Old Crown) at the bottom of Fore Street was closed in about 1941. It held a six day licence being closed on Sundays. During the last century it was noted for serving tripe and onion suppers on one night each week. The Lord of the Manor of Thorncombe held a Court Leet at the Crown every year on the second Friday in October. Also closed are the Royal Oak adjacent to the churchyard and the Poppe Inn further down the hill. At Holditch, the Golden Fleece was the last inn to close in 1971, leaving only the Squirrel Inn at Laymore on the parish boundary.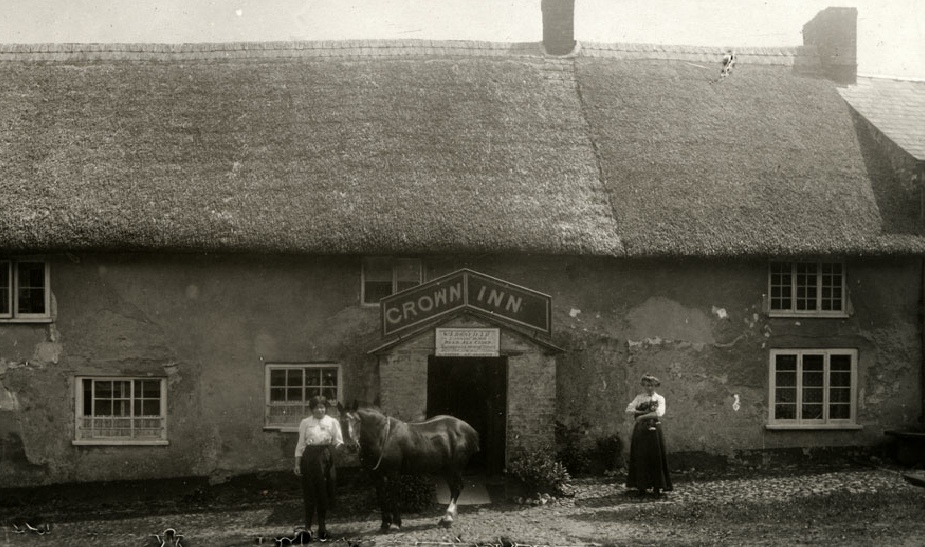 Mrs Bonfield and daughter Dorothy outside the Old Crown circa 1910
Shops
Not only have the old pubs disappeared, but also many of the shops which served this community. Butchers, cobblers, blacksmiths and a thatcher once made this quiet village a busy place to be. As time has brought the bike, bus, train and car, so people have looked outward more and the little shops have slowly disappeared. At present the village is served by a modern self-service store and a small post office cum newsagent and sweetshop. Bonfield Stores was another general store until a few years ago when the lower part was extensively damaged by fire and never re-opened. Luckily the fire did not spread to the coal yard behind where oil and calor gas were stored. A coal delivery business is still carried out from here.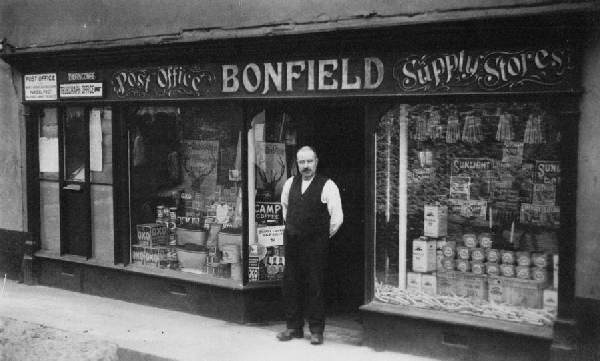 Albert Bonfield aka Black Diamond
Between the wars, the enterprising Albert Bonfield worked hard to set up a business in this shop, first having to sell his first stock before he could pay for it. His was a romantic aim, for after two years, when he felt he could make his way, he returned to where he had been formerly employed and where he had fallen in love with his employer's daughter. He eloped with her, married and returned to Thorncombe. Known for his strict and fair dealing, he would turn his hand to anything that would increase his business, taking in produce which people brought to him, placing it in large baskets outside for sale. Later when wireless became important, accumulators could be charged. How amused our present day transistorised teenagers would be, to have seen us staggering to the shop with our heavy batteries to have them charged for our radios. Grandfather Bonfield was known as 'Black Diamond' because of his coal business. He might have raised an eyebrow at the price of coal today.
Traditions often have obscure beginnings, but it was Grandfather Bonfield who started, especially on festive occasions to throw sweets around on the ground for children to scramble after and gather up. The last occasion this happened was during the village celebrations for the wedding of Prince Charles and Diana. Howard Bonfield kept up the tradition, 'sowing' the sweets from a bag slung around his shoulder. This was a vast surprise for those not in the know. My small grandson looked as if he thought this gentleman had gone delightfully dotty. Next to two holiday cottages called Penny Pie and Halfpenny Bun on Fore Street is the Old Bakery, still so called, once serving the village with bread and cakes. It became a guest house in 1965 but is now being gutted and modernised for some unknown purpose. Another bakery behind the little grocery store was the predecessor of the new modern shop next door. Its owner, another enterprising man only ceased making bread in 1971. Just along the road from my house lives Sonny Down. His house once being the blacksmiths. Mr Down is a keen and talented gardener, a fountain of knowledge on Forde Abbey where he regularly helps on open days and an artist in the skill of upholstery. Not quite such a ringing sound as a hammer on an anvil, but like a little echo of its past is the sound of his upholstery hammer, tapping during winter evenings as he recovers an armchair or settee. I wonder if this keeps the long gone blacksmith's spirit happy. (Chard St Bakery & Forge)
Life & death
Greenhill, was once the home of the local doctor, the village surgery being one of the houses on Coronation Terrace in the village. Teeth were pulled here and small operations performed. Later when the villagers had to rely on doctors from Chard, one doctor is said to have walked all the way to Thorncombe through deep snow to attend a patient who was very ill. More recent emergencies here led to help being sent by helicopter! All aspects of life and death were dealt with in the village. Even the coffin maker lived close by and Rose Bonfield, well known for her sewing and hand-work, especially her Dorset embroidery, used to make the coffin linings and pillows.
Milk deliveries
We still have our local hairdresser, leather craftsmen, one of whom lives behind the old vicarage, where, not so long ago horses were kept at livery. Our deliveries come from outside butchers, fishmongers and of course the milkman. Granny Bonfield, one of our very old W.I members, used to deliver milk in a pony and trap, lit by a little oil lamp. She came to Thorncombe when she was 16 years old to work for Farmer Hellyer then at Thorncombe Farm. She worked hard in the fields and milking. She used to tell, with a twinkle in her eye and a saucy chuckle, how she was stopped by the local bobby one evening while driving the trap. 'Where's your lights' he growled. 'Next to me liver' was her cheeky response.
Farmer Hellyer once lived at Glebe Cottage which lies behind the older vicarage lands and is now the home of the retired school mistress and her aunt. This is a large cottage with spacious rooms and on admiring the proportions and light in the end bedroom, I was told that Farmer Hellyer's eight daughters used to sleep in it. I had an instant vision of eight rosy faces with long plaits lying in a vast bed. Probably far from reality. I did wonder however, how much Farmer Hellyer longed for a son. Reg Warren, the last man to deliver milk using a yolk and pails, also worked for Farmer Hellyer. (Gough's Barton)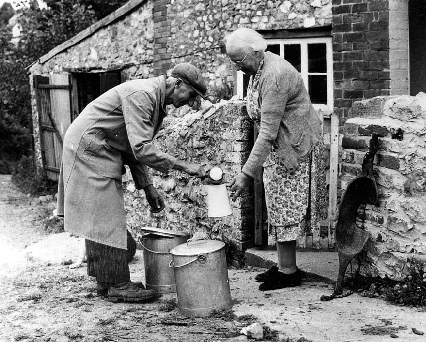 Reg Warren and sister Lillian outside Sunnyside Farm in 1962, subsequently renamed Gough's Barton in 1974
Transport
Sometimes I feel quite ashamed of my over-use of the car, especially when I meet some of the older members of the community walking up and down these quite steep roads. One of them says she walks 12 steps, stops, counts 12 and goes on again. I daresay they are a lot healthier than I shall be at their age. Mrs E Henson told me once how she cycled with her husband all the way from London, to visit a relative who lived in the cottage she now occupies. I thought her comment that they were quite keen on cycling to be somewhat superfluous. Admirable lady.
In those pre-war days of course, the cycle was invaluable and later on the charabanc widened the ordinary person's horizons considerably. Herbert Vincent for many years running a coach and taxi service for the village, helped by his wife, now enjoys his retirement pottering in his garden and house. The senior citizens recall outings in which his coaches figure largely and for many years he was the driver of the school buses. We seem to have come to the village in time to see the last days of the baker and the village coach service for soon after our move here Mr Vincent retired and his old garage and petrol pumps next to the village hall disappeared to make way for three modern bungalows. Mr Vincent has long associations with this village. There are still 'Used Cars for Sale' in the workshops between Hewood and School House. A gentleman known for his 'brisk' dealings, the dealer also kept a team of donkeys that used to give rides on Seaton sands.
Postal service
Communication of a different sort had interesting times. The parish records mention a telegraph service from Thorncombe in 1908 and the building of the little post office by Mr Taplin and run by a succession of sub-post masters and mistresses. As late as the beginning of 1970, the mail was delivered by two village ladies on their cycles, where the mail van did not deliver. Now the mail van comes twice a day with letters. One time before the council estate was built, a hut on the allotment field was used by the postman who walk with the mail from Chard. He rested in his hut and walked back in the afternoon with any collections.
Local characters
Listening to local people talk about the folk who used to live here, makes on realise how each single life add a thread of colour to the embroidery which is the village picture. Tom Tiddybags used to live rough in Horseshoe Lane, so named for the potato bags he used to wear around his shoulders on wet days. He must be a brown thread. Mr Tranchard one time tenant of the little house next to April Cottage, lived here during the war and was an artist. He was also, it turned out, a spy, and was taken away for his activities. Lily Way, who happened to live in the same cottage at another time, whose eccentricity was declaiming her poetry in the street. She wrote long verse, mostly patriotic, a quantity of which found its way to the royal family. Definitely purple and gold.
Nature's bounty
This is a beautiful part of the country and we are fortunate to live where wild flowers still bloom in great profusion and beauty. Spring blooms early with the masses of snowdrops by the river and each season brings another pleasure of flowers and grasses. Sadly many trees have been lost to us – the elms through disease, age has taken others, and storms, and of course some have been felled for cash. Fortunately tree planting especially by the Forde Abbey Estate is replacing some of the trees, but another generation will enjoy their maturity.
The cowslip is a flower that sadly has disappeared from the area, but here is another memory from the W.I Scrapbook by Mrs M Hawker: 'In our village we gather cowslips and cut the flowers from the stem and tie them up to make a ball called 'tisty tosty', and on Ascension Day we went to church with a bunch of flowers and a 'tisty tosty' which the vicar sent to the hospital'.
Fund raising
Many social events in the parish revolve around fund raising. The village hall committee at Holditch raises money for local hospitals, cancer research, and each year holds the village flower show in their hall. Recently young family members joined to raise funds for a swimming pool in the village and are proud of the fact that their hard work won them an award and a cash prize. The village hall, built earlier by another joint effort, is again to be extended and it is sure that the names of those closely involved in this venture will not be forgotten.
The reader may be forgiven for imagining that the only family of note in Thorncombe is the Bonfields, so often have they been mentioned, and while there are certainly quite a few of them and very involved people they are, there are also many who have also given their time and devotion to this community, including Mr Down and Mr Vincent also being members of early village families.
New blood
Many people have moved to this lovely part of England in recent years and thrown themselves with their particular talents into village life. Some of the 'old inhabitants' as one remarked recently, come to feel like strangers in their own home although their families may have been newcomers themselves at one time. This injection of new blood cannot be a bad thing especially with the passionate interest that comes with it, not only in the countryside around, but in the history or their new home and they too, who knows, may begin a tradition, or be remembered in times to come for their part in the village history.
JUNE EDE
Taken from the late June Ede's unpublished manuscript, 'Thorncombe, A Village History'. June lived in Thorncombe village from 1968 until shortly before her death in 2009. Written in 1982 in response to a national Women's Institute initiative, it was donated by Mrs Ede, to the TVT history box in 2008. Reproduced here by kind permission of June's daughter, Penny Kennedy. The photographs come from Sheila Moreland's and Wilfred Potter's archives and are reproduced here courtesy of Mrs Moreland and Marina Atyeo.